Pamphlet Blowout Sale
Pamphlet Blowout Sale
Pamphlet Blowout Sale-Save 60%
Get 100 Prophecies Fulfilled by Christ Pamphlet For Just $1.50 When You Buy 10 or More!
Save Over 60% For 5 Days Only! Get this bestselling pamphlet for Just $1.50 when you buy 10 or more copies. Offer good while supplies last. Enjoy having this quick-reference pamphlet at your fingertips!
Please Note: The sales discount will not appear until 10 or more copies of 100 Prophecies Fulfilled by Christ Pamphlets have been added to your cart.
Offer ends Monday, November 6, 2017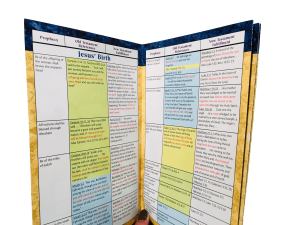 100 Prophecies Fulfilled by Jesus – Pamphlet
Students will be amazed to discover that Jesus fulfilled more than 100 prophecies that were foretold by the Old Testament prophets 400-1500 years before He was born concerning His birth, life, ministry, death, and resurrection. Size: 8.5″ x 5.5″ pamphlet has 12 panels and fits inside a Bible cover. Unfolds to 33″ long. Fits easily in most Bibles.
Rose Publishing Product Code: 537X