Free eChart on King Nebuchadnezzar and the Babylonian Empire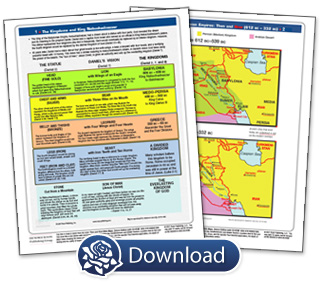 Between Nebuchadnezzar's dream and Daniel's vision, the book of Daniel is jam packed with so much symbolism and imagery, it's difficult to keep it all clear! What if you could compare all of it side-by-side at a glance without having to flip back and forth in your Bible? We have that solution for you!
Packed with a chart, maps, and simple overviews, deepen your Old Testament Bible study with this free eChart on the visions and dreams in the book of Daniel! This week's free download includes:
Color-coded chart comparing The Statue, Daniel's Vision, and The Kingdoms side by side
2 pairs of labeled Then and Now maps comparing the Babylonian and Persian Empires
Scripture references to help you tie it all back to your Bible study!
These are just a few pages from the bestselling book Deluxe Then and Now Bible Maps! Today's your last chance to get the whole book for just $9.99.