Free "Gospel Message" Chapter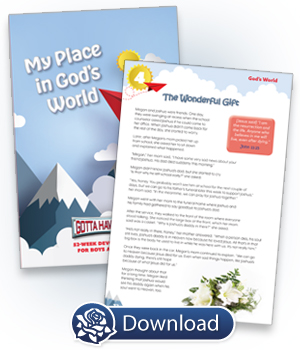 In this week's free eChart download, you'll get a fun full-color devotion from My Place in God's World that helps boys engage with the gospel message! This chapter is packed with 4 activities, a relatable devotional, discussion questions, and a prayer that will inspire boys ages 6–9!
This FREE download includes:
2 relatable stories about children with grief
4 discussions questions like "Who died so you can live? How does that make you feel?"
Card-making craft to share the love of Jesus
Step-by-step instructions to build a terrarium
And more!
These are just a few pages from My Place in God's World. Get the entire book for just $12.99.