Free eChart: Warning Signs of Suicide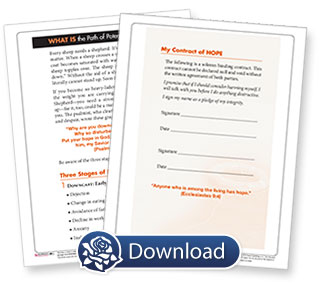 Today is World Mental Health Day, and this year's focus is suicide prevention. Of those who took their own lives, approximately 75% gave clues or warnings to friends or family. It's important to take any threat seriously, and to know the signs.
This week's free eChart exposes common misconceptions about suicide and explains how to spot 24 warning signs. It briefly covers practical questions and ways to connect with those struggling with suicidal thoughts, providing hope for a better future.
In this free eChart, you will learn:
2 common misconceptions about suicide
24 warning signs and 3 stages of possible suicide
How to offer H.O.P.E. (includes practical questions and interventions)
This free download includes just a few pages from June Hunt's Suicide Prevention guide, and it is not comprehensive. For more information on suicide prevention as well as 7 other important topics, get June Hunt's 8-book Hope for the Heart bundle.