Free eChart Lesson on "Jesus Is King"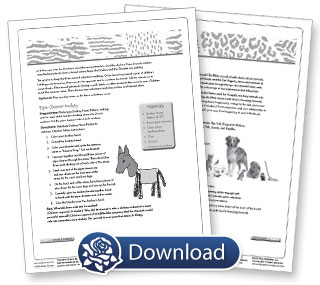 How can you apply animals in the Bible to kids' lessons? Learn how in this free eChart on donkeys!
Teach kids that Jesus is king with this activity‐packed Bible lesson about donkeys! Tradition says that Mary rode a donkey to Bethlehem where she gave birth to the newborn king. As an adult, Jesus rode a donkey into Jerusalem as a sign that he was a servant King of the Jews. Learn about the significance of the donkey with this free eChart which includes:
Bible story
Relay race game
Object lesson about transportation
"Hop for the King" Hopscotch game
Donkey parade activity
Reproducible donkey craft
Memory verse
And more!
It's just one of the 50 Bible lessons that are sure to capture your kids attention! Download this free eChart from the Top 50 Bible Lessons with God's Amazing Animals and see for yourself how easy it is to follow!