Free "World Christianity" eChart
In the U.S., we often talk about sharing the gospel on missions trips in Africa, but did you know Africa is home to the most Christians in the world? Find out other fascinating facts in this week's free eChart.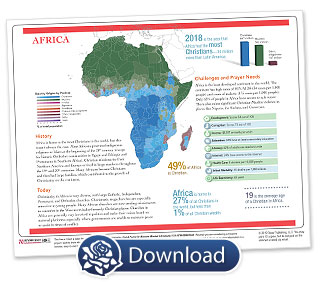 Get updated statistics comparing Christianity in North America and Africa, and get more insight on how you can pray and help spread the gospel in an effective way with this free eChart. Using maps and charts, it shows key information for each continent, including:
Religious history
Color‐coded graphic showing majority religion by province
Greatest prayer needs
Access to education, heath care, and other key facts
This eChart is just a few pages out of Rose's NEW! World Christianity pamphlet!