Free Bible Study from Journey to the Resurrection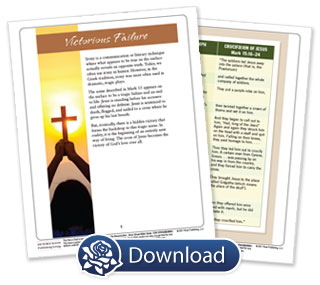 Picture Mark 15: the scene of Jesus' crucifixion appears on the surface to be a tragic failure and an end to life. Jesus stands before his accusers and offers no defense and he's sentenced to death on the cross.
But, ironically, there's a hidden victory in the backdrop of this tragic scene. We're going to unpack it in this week's fascinating eChart to help you get ready for Easter!
This week's eChart dives into the victory of Jesus' sacrifice and God's love for all. Your free download will help you dive deeper in the Jesus' victory over death. This week's eChart includes:
Simple summaries
Key Bible passage to read (with optional reading)
Full color chart comparing the Roman Triumph March to Jesus' Crucifixion
And more!
This is just one of 6 sessions in Journey to the Resurrection Visual Bible Study! Get the entire study for just $8.99!