See Inside the Top 50 Creative Bible Lessons for Ages 2–5!
See All 50 Lessons by Exploring Its Table of Contents
Which Bible stories are the best to teach kids while they are young? Here are 50 Bible stories every child should know!
Now you can equip kids to grow closer to God in an interactive way! Kids will learn what the Bible says and how to apply it to their lives.
It covers 50 key Bible stories, including:
Creation
Noah's Ark
Abraham
Moses
King David
Jesus
Paul
And more!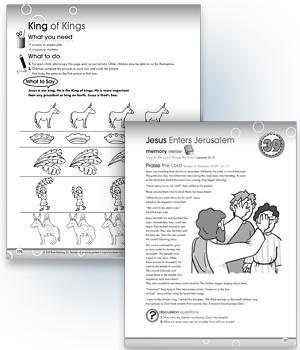 Download a Free Lesson on Palm Sunday
Download this free chapter from the Top 50 Creative Bible Lessons and see for yourself how easy it is to follow!
Teach kids the power of Jesus and the resurrection with this activity‐packed Bible lesson about Palm Sunday!
It's just one of the 50 Bible lessons that are sure to capture your kids' attention as their eyes are opened to the truth of God's Word!