Free Abraham Forshadowed Jesus eChart & Discussion Plan
One man is called the "Father of Father." The other is the "perfecter of faith." Easily compare the lives of Abraham and Jesus at a glance with this week's FREE eChart.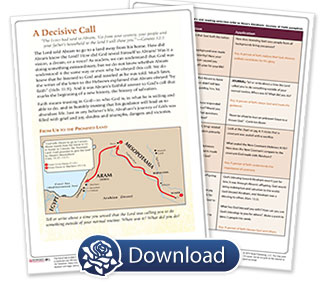 Packed with simple summaries and key scripture verses, this week's eChart includes an incredible comparison chart showing the 6 key ways Abraham's life foreshadowed the coming of Christ. This free eChart includes:
Abram's call to leave his home of Ur.
Full‐color map showing the route Abraham took as he traveled hundreds of miles from Ur to Canaan.
Chart showing how Abraham foreshadowed Jesus
12‐day discussion guide to use with Life of Abraham pamphlet. Perfect for individual or small group use.
This free eChart is just a small portion of Rose's Life of Abraham Pamphlet!