Free "10 Plagues & Exodus" eChart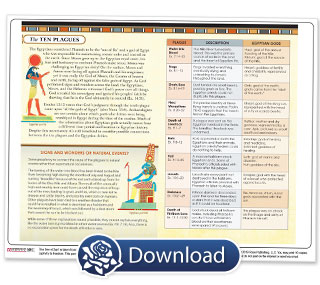 Before the Exodus, God sent 10 plagues to challenge the Pharaoh, but did you know that each of these plagues may have been direct challenges toward specific Egyptians gods? Not only was God displaying his sovereign power, he was also tearing down the false idols and gods of Egypt.
From boils to frogs, learn more about each of these 10 plagues and see key references and explanations at a glance with this week's free eChart! It includes:
Chart with each of the 10 plagues, key verses, description, and associated Egyptian idols.
Short summary explaining why God sent the plagues.
Simple explanation about the possible connection between the plagues and natural events.
And more!
This free eChart is just 2 pages of the NEW 14‐page Exodus pamphlet from Rose Publishing.