Free "Understanding Tough Bible Verses" eChart
Any student of the Bible will tell you that the Bible can be quite challenging to understand, and sometimes leave you scratching your head wondering what it means. But don't give up! God's Word is worth it.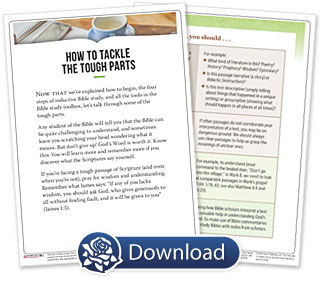 If you're facing a tough passage of Scripture (and even when you're not), this week's free eChart will provide lifelong tools that you can use to dig deeper into Scripture.
This week's free download from Rose's Bible Study Made Easy quick-reference book includes:
Five "Do Nots" of Interpretation
Step-by-step instructions on how to interpret Bible passages
Full-color chart and photographs
And more!
These are just a few pages from Bible Study Made Easy! Get the entire book in this Bible Study Tool Kit for just $34.99.