Free "Where Jesus Walked Palm Sunday to Easter" eChart & Map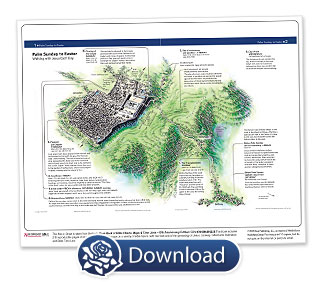 You're probably used to reading the Easter Story in your Bible or hearing it on Easter Sunday. But, have you ever visually explored Jesus' time from Palm Sunday to Easter?
When you have colorful maps and diagrams, you can dig deeply into where Jesus walked and what Holy Week was like moment to moment!
Don't just read about Easter. Experience it! And gain deep insights at a glance in this week's free download.
This week, dive into Holy Week and over 20 need-to-know moments of Jesus' hours on the cross. This free echart includes:
8 key highlights of Holy Week (with verses)
Clearly labeled, full-color map of Jerusalem showing where Jesus walked
Visual diagram showing Jesus' hours on the cross
And more!
This free echart is just 3 pages out of 216-page Rose Book of Bible Charts, Maps, and Time Lines. Get ALL 200 Bible charts for just $19.99! Order it today and save over 30%!