How Psalm 23 Is a Reminder of the Lord's Care for You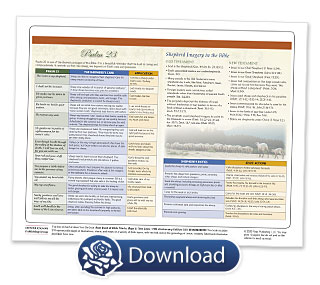 You probably already know Psalm 23, but have you ever read it in the cultural context of a first-century shepherd?
This week's free eChart will help you unpack even more meaning in one of the most beloved passages in the Bible.
Perfect for both new believers and lifelong Christians alike, this week's download will give you fresh insights to help you gain insight on this treasured Psalm. Whether it's for you or someone you love, enjoy having:
A full-color chart unpacking Psalm 23 with meanings and practical applications
List of related scriptures with explanations in the Old and New Testament
A full-color chart comparing a shepherd's duties with Jesus' actions
And more!
This free eChart is just 3 pages out of the Rose Book of Charts, Maps, and Time Lines. Get ALL 200 Bible charts for just $19.99.